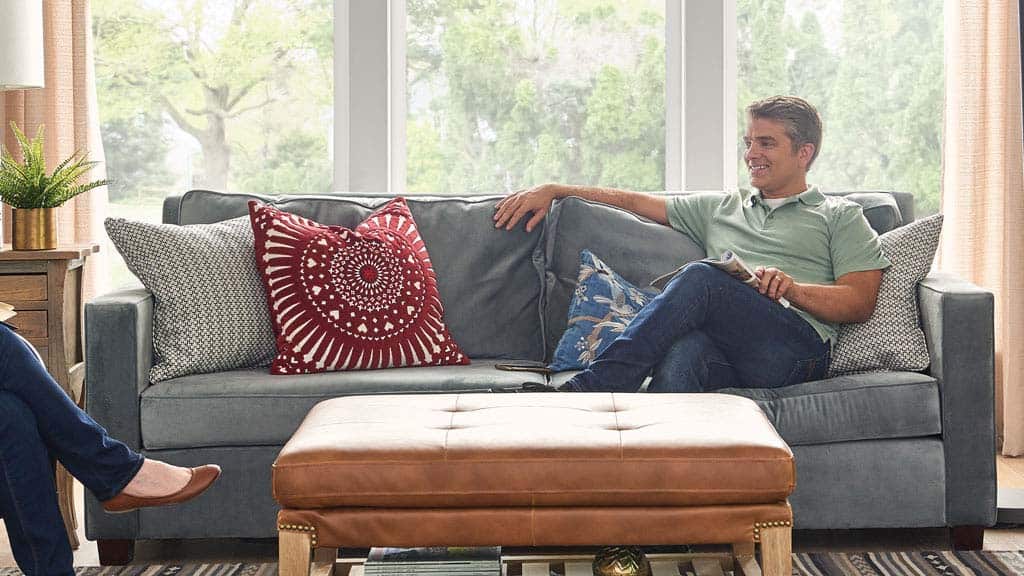 Take control over your comfort and cost savings. Go ductless today.
A ductless system allows you to bring heating and air conditioning to areas of your Colorado home where it might be challenging to extend the ductwork. Cool one room or an entire home.
Want to convert your basement or attic into a rec room? Or turn your garage into an exercise space? Go ductless.
Let Bryant Colorado find a nearby HVAC professional who can handle all of your ductless needs. Our directory provides you with a network of Bryant dealers in Southern Colorado, Northern Colorado, Eastern Plains, Western Slope, Denver Metro–West, Denver Metro–East, Denver Metro–North, or Denver Metro–South.
Bryant dealers specialize in installing, replacing, repairing, and maintaining ductless equipment. Go with a company that has helped find comfort solutions for families and businesses for over a century. Choose Bryant.
What Is a Ductless System?
A ductless system—also known as a mini split—has an outdoor compressor and indoor air-handling unit. A conduit housing the power cable, refrigerant tubing, suction tubing, and condensate drain links the outdoor and indoor units.
The main advantage of ductless systems is flexibility. You can mount the indoor unit to a wall or ceiling in practically any part of your home. One outdoor compressor can connect to multiple air-handling units, allowing you to create a zone control system.
Remodeling your home no longer requires you to rip open walls and ceilings to extend extra ductwork. You mount one or more of the indoor units around your home, drill a few small holes to run the conduit line, and you have instant comfort.
According to the Department of Energy (DOE), the average home loses up to 30 percent of the airflow traveling through ducts because of leaks and tears. You eliminate this problem with a ductless system.
Plus, a ductless heat pump can provide both heating and air conditioning for your Colorado home.
Bryant has been heating and cooling homes and businesses since 1904. Bryant is a trusted name across the country for providing furnaces, air conditioners, boilers, heat pumps, and other equipment—along with unmatched customer service.
You can count on Bryant Colorado to link you to a Factory Authorized Bryant Dealer close to your home. Bryant dealers understand it's about more than heating and cooling. It's about earning your trust.
Your HVAC System and Indoor Air Quality
Your Bryant dealer can conduct a thorough audit of the air in your home to discover any indoor air quality (IAQ) issues. The analysis provides an in-depth look at the air in your home along with a proposal of Bryant products to treat any potential problems.
Ductless systems are known for their exceptional filtration capabilities. Their filters trap dust, debris, and other airborne contaminants. Ductless units are also exceptional at removing excess humidity from the air that might lead to mold or mildew. Any family member with asthma or allergies will benefit greatly from a ductless mini split.
Ductless Installation or Replacement
Go with a company you can trust to install your HVAC equipment. Bryant Factory Authorized Dealers earn North American Technician Excellence (NATE) certification, the leading certification program for technicians in the HVAC industry.
Correctly installing your equipment is every bit as important as the system you purchase. Your Bryant dealer will take accrue load calculations and other measurements to ensure your ductless system is sized to fit the square footage and layout of your home.
Leave the diagnostics and repairs to the experts. Your bonded and insured Bryant dealer can quickly troubleshoot any issues with your ductless system and resolve them. More often than not, your HVAC professional can uncover a minor problem before it festers into a costly and inconvenient repair.
Here are a few common repair issues with ductless systems: 
Low refrigerant levels
Condensate leaks and clogs
Blower fan issues
Not sure about the problem? Let Bryant Colorado find you a qualified HVAC specialist to give your system the attention it deserves.
Suddenly, you have a convenient way to add comfort in those in those hard-to-reach areas of your home. Eliminate hot and cold spots. Enjoy individual room control. Take advantage of the flexibility a ductless system offers.
Your Bryant dealer has several customized maintenance plans tailored to your budget and needs. Join a plan today to start saving money on service calls and repairs. Preventative maintenance plays a critical role in the efficiency of your HVAC equipment, along with helping it reach its expected service life.
Learn More Today About Ductless Systems