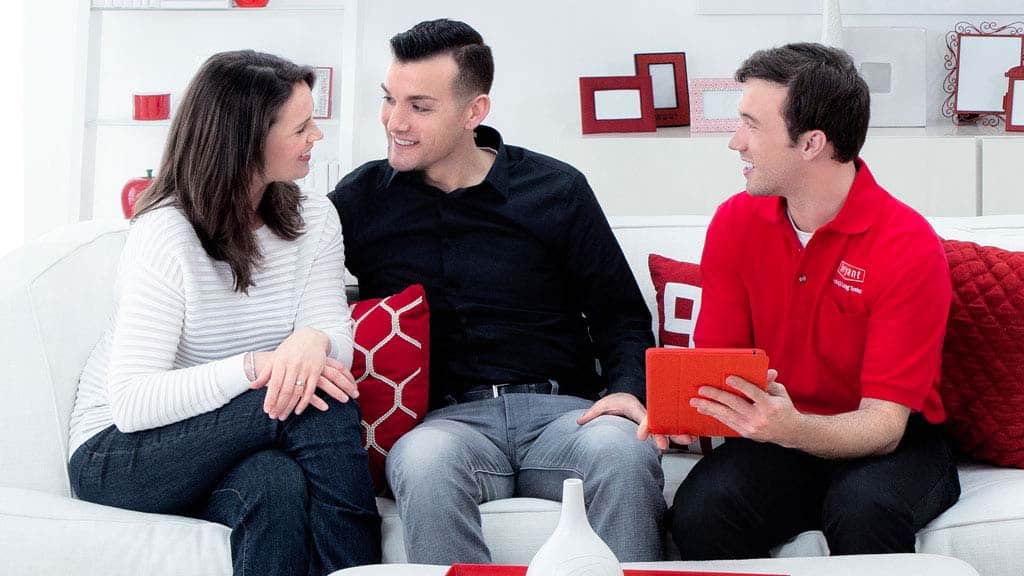 How clean is the air inside your home?
If your indoor air quality (IAQ) is poor, you risk your health and safety. Dust, pollen ash, viruses, bacteria, and other types of microscopic contaminants circulate in the air and may even be present in your home right now! Take precautions to encourage cleaner air.
Start protecting yourself today. Turn to a Bryant dealer for all your heating, ventilation, and air conditioning (HVAC) needs. Enjoy the best indoor air quality products for your home that your family deserves.
Let Bryant Colorado help you find a nearby Factory Authorized Bryant Dealers in Southern Colorado, Northern Colorado, Eastern Plains, Western Slope, Denver Metro–West, Denver Metro–East, Denver Metro–North, and Denver Metro–South. Bryant has been helping families and businesses in Colorado for over a century.
What Causes Poor Indoor Air Quality?
Various sources of pollution contribute to poor air quality. Even the cleanest of homes can become infiltrated with contaminants.
Some of the most common indoor pollutants include:
Mold and mildew
Smoke and ash
Pollen, dust, dirt, and dander
Viruses, bacteria, and fungi
Volatile organic compounds (VOCs)
Gases like carbon dioxide and carbon monoxide
Chemicals from aerosol sprays and cleaning supplies
Is There Anything I Can Do to Reduce Indoor Air Pollutants?
Whether your air is contaminated from products you use inside your home or from outdoor pollutants that find their way in, you need a solution for cleaner air.
Be proactive and encourage healthy indoor air quality by doing the following:
Vacuum and sweep your home often.
Avoid smoking inside.
Be wary of the cleaning and personal care products you use, especially if they are aerosol sprays.
Open your windows whenever possible for ventilation.
Routinely change your HVAC filter every 30 to 90 days.
Use vents and fans in the kitchen for cooking and bathroom when taking a shower.
Groom your pets regularly.
What Products Can Help Improve My Indoor Air Quality?
Here are a few suggestions on how to improve your indoor air quality:
Install a whole-home humidifier or whole-home dehumidifier:
The recommended range of indoor humidity levels is between 30 and 50 percent. If your home's humidity is too high, a whole-home dehumidifier can help provide support. Likewise, a whole-home humidifier can add moisture into the air so that your humidity levels are within the appropriate range. These systems interact with your HVAC system and are easy to maintain.
Opt for a whole-home air purification system:
Reduce bacteria and viruses circulating in your air with the help of a whole-home air purifier. Air purifiers are exceptional at reducing the number of contaminants in the air—some are able to remove up to 99 percent! In addition, many air purifiers can eliminate strong odors, mold, smoke, and other allergens.
Schedule a duct cleaning with a Bryant HVAC dealer. Dust, dirt, and debris can quickly accumulate in your ductwork over time—and you end up breathing it all in when air circulates throughout your home. Feel confident about the air you breathe by turning to a professional who has special tools that can get to hard-to-reach areas to ensure your ductwork is clean.
Upgrade to high-efficiency HVAC equipment:
If you have an older HVAC system, odds are your airflow is not up to par. Newer, high-efficiency models on the market today offer better airflow and can promote better air quality as a result.
Will Routine HVAC Maintenance Improve My Air Quality?
Operating heating and cooling equipment throughout the year without planned maintenance can turn into a costly mistake. Routine maintenance not only helps your system run more efficiently—but also provides an opportunity for your Bryant specialist to clean every component and uncover minor issues.


A Bryant professional can inspect your system for signs of leaks or excessive moisture, which could otherwise result in mold and mildew growth, leading to poor air quality and potential health hazards. Support a cleaner indoor environment by simply keeping up with routine maintenance.
Call a Bryant Dealer Today